Download this form for your chance to win $3250 of stunning wedding jewellery:
[button link="https://www.julleen.com/docs/entry_form.pdf"]Click Here[/button]
This year Julleen Bridal will be key sponsor at the Perth Wedding Expo. To celebrate we are giving away an exquisite prize. One lucky entrant will win a Pearl Necklace & Earrings Set created especially for the event. A totally unique and original design.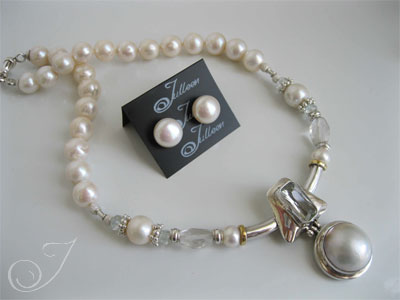 [br ]» click for larger view «
To be eligible all you have to do is fill in the entry form and drop it in the barrel at the event.
Also known as the Dusk Bridal Fair, this is THE wedding expo of the year in Perth. And we are very proud to be a part of it. Mark the 12th and 13th of March in your calendar. If you're getting married in the next 12 months or even just thinking about it, you definitely do not want to miss this weekend.
Imagine stepping out on your special day adorned in over 3 thousand dollars worth of designer pearls … that you got for FREE. Well, almost. There'll be a $16 entry fee on the day.
So why are we being so generous?
As you know, the Julleen label has been available in jewellery stores around Australia for over a decade. Demand keeps growing every year. To make it easier for people to access our range we recently made the move online. The Julleen Bridal website is the first step in providing a more specialized service to our customers.
And we decided to have our "Official Launch" at Perth's premier wedding expo – the Dusk Bridal Fair.
It's shaping up to be a very memorable event. The major prize is only a part of that. Here's what else is in the pipeline:
[check_list]
Our bridal jewellery will be showcased on the models parading in wedding gowns
We'll be featured in television and radio promotions leading up to the event.
MyBridalJewellery.com will be prominent at the catwalk as well as having our own booth
Plus lots more …
[/check_list]
In fact, what we offer is so unique and special in the wedding marketplace we were actually approached by the organizers of the expo to be the key sponsor. That's why we're so excited. Why don't you come along and see for yourself why we are number #1 for quality and value?
Introduce yourself at the Perth Wedding Expo this March 2011. We'll help you with plenty of advice on how to tie your whole wedding theme together like a match made in heaven.
Remember to bring your prize form with you …
[julia]