Product Description
Huge 24ct Dark Rich Amethyst Oval, Set With Heavenly Mauve Grey Mabe Blister Pearl and various tones of freshwater pearls and amethysts.All set in the highest quality Sterling Silver.18″.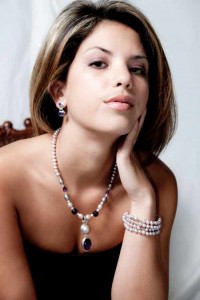 When it comes to loving the colour purple then this is the necklace to write on your "to die for" list. Scrimp, save, beg, starve ….do anything to get it. This is sheer luxury… in a beautifully simple, understated and elegant style. This perfect design will look great for a very long time, and will be cherished for just as long. When you make good jewellery with genuine, quality components then you have no qualms bragging (as we do..on occasion) that the designs will last for ever.
We really go out of our way to preserve clear lines of a heavenly large gemstone and need to get the balance just right in deciding what size pearls to place on the necklet.. so it works for all different age groups. Seeing it here on the lovely Nikki ..you can see that this look will appeal to many generations and both sexes.
Love it?  Leave your comments below and forward the link to everyone you know who loves amethysts. the colour purple or lavender and especially someone who adores pearls. Get noticed! Buy it now and you can bet you will be wearing it at any opportunity and it will look like it was made for just you, always. Amethysts and lavender pearls…don't you just love them together.